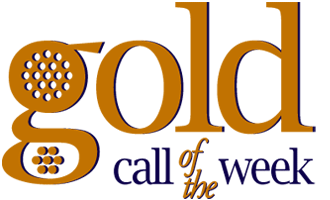 Subscribe to Gold Call of the Week  and you'll have access to a permanent library of audio lessons (10) that will teach you how to perform the Gold Call Script with YOUR sales prospects.
Each Gold Call of the Week Podcast includes a recorded Gold Call made to a prospect with a complete analysis of the conversation that turned an ordinary sounding COLD CALL into an extraordinary sounding GOLD CALL.
The Gold Call of the Week Podcasts will give you a better understanding of what needs to be said to your sales prospects in order to get more sales appointments scheduled to your calendar.
"The sales call recordings you are about to hear are TRUE - only the names of the prospects and the companies they work for have been withheld to protect their identity".
Gold Call of the Week Introduction
Gold Call of the Week - Volume I
Welcome to the Gold Call
Can You Send Me Something?
Finding Your Way to the Right Person
The Gold Call 'Ice-Breaker'
Negative Questions for Positive Results
Overcoming Request for Sales Literature
Finding the Prospect's Problem
Overcoming "I already have a supplier"
Top Down Selling
Getting decisions from indecisive prospects
Buy Gold Call of the Week - Volume I
Gold Call of the Week - Volume II:
Death of a Cold Call
Close the File - Getting decisions from indecisive prospects
Dare to be Different
Don't Believe Everything the Prospect Says…
Making Small Talk
The "Overworked and Underpaid" Ice-Breaker
Pursue Your Prospects
The 'Magic Wand' Call
The 'Early Bird' Call
The 'Inquiry' Call
Know When to Fold…
Buy Gold Call of the Week - Volume II